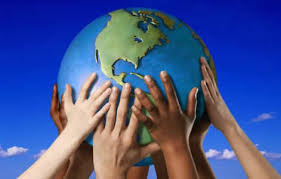 During the school year 1961 – 1962, North Penn High School teachers began to discuss the possibility of starting an International Exchange Program. It was decided to seek a partner school in West Germany.
With this goal in mind, contacts were made with the American Friends Service Committee in Philadelphia. This Quaker organization used its International contacts to identify the Kranich Gymnasium in Salzgitter-Lebenstedt. Administrators and teachers in both schools agreed upon the partnership.
Teachers and students in both schools began to exchange correspondence and exhibits. The following year an annual exchange of students was begun. This partnership and the exchange of students continues.
A parent advisory committee was formed to promote the goals of International Youth Exchange.
The committee members interviewed students who wished to go abroad, found host families for students coming to North Penn, raised scholarship funds, provided orientation for students and families, and publicized the entire program.
As the program developed, several additional exchange student programs were involved. These included: Rotary International, Youth For Understanding, AFS International Exchange, Spanish Heritage, The International Student Placement Service, The International Christian Youth Exchange and the American-Scandinavian Student Exchange.
A partnership between North Penn and the Schubart Gymnasium in Aalen, West Germany was begun during the 1981 – 1982 school year.
A partnership between North Penn and Le Caousou, a high schooll in Toulouse, France was created during the 2006 – 2007 school year. In 2011 this partnership changed to Lycée Fermat School in Toulouse, France or Lycée Ozene in Toulouse, France.
A fourth partner school – Nuestra Señora del Pilar in Madrid, Spain became official in 2011,
A fifth partner school- Ensemble Scolarie Prive Saint-Genes in Bordeaux, France became official in 2016.
Each of these partnerships involve the annual exchange of students.
Over 600 students have been exchanged for host family experiences — either for a summer or a school year.
In addition, over 1,000 students have experienced short term visits to and from partner schools which included living with a host family and school visits.
Members of the North Penn International Friendship Committee had a 50th anniversary celebration in August, 2012. This celebration involved past exchange students, host families, and many others involved with the program over these years.
The North Penn International FriendshipCommittee continues to administer this rewarding program, giving opportunities to students to experience a study abroad and for foreign students to study at North Penn High School.